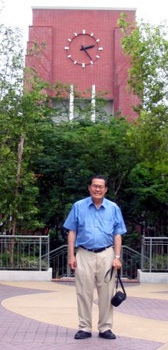 Remember Arthur Yap? The guy with the unique voice?
Arthur, who is the Chairman of the NUS Alumni, British Columbia Chapter, was recently in town with his wife Angeline to attend the NUS 100th Anniversary Celebrations.
During his short stay in Singapore, he caught up with some of his old school mates. He also called on Mr Ong Kang Hai and Mr Lee Hah Ing, and took a trip down memory lane when he visited the new ACS Barker Road Campus where he once schooled.
"Where's the school field where we used to do our training?" he asked incredulously. Obviously impressed with what he saw, Arthur uttered (pardon the pun!) superlatives like 'Fantastic', 'First class' and 'State of the Art' when he toured the Campus.
"We never had such facilities during our time. The students are very lucky", he added.
At lunch with some of his schoolmates, Arthur enjoyed a good sampling of his favourite Singapore dishes.
Pictured below is Arthur and his wife, Angeline, at lunch with schoolmates Jerry Choo Teck Yong (middle), Dr. Kho Kwang Po (second from right) and Leong Kwok Onn.