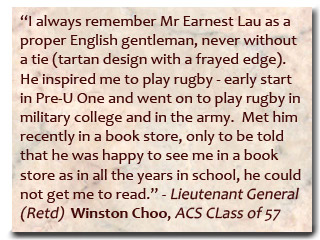 Mr Lau was a wonderful teacher who enriched the lives of thousands of students under his charge. There was never a dull moment during his lessons which were delivered in his clipped Oxford accent, and with the occasional "mana boleh" (his favourite expression) cropping up every now and then as he speaks.
Jimmy Ho Chee Meng remembers Mr Lau as a warm and empathetic teacher who guided and encouraged his students to achieve to the highest extent possible. He recalls how much he and the boys in his class enjoyed Mr Lau's lessons, and the fair and considerate way Mr Lau dealt with his students; he would neither talk down to them nor dampen their enthusiasm, and when it came to solving problems, he would provide logical alternatives to set minds thinking.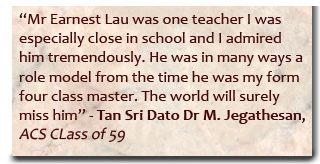 According to Jimmy, "When Mr Lau taught me English Literature in 1956, his lessons would come alive with his prosaic interpretation of the classical literature which was our syllabus and never would he express in a flat and monotonous voice with his style of teaching. Often he would read out passages and project his pronunciation in a dramatic accent, which Oxbridge students in England would pick up during their undergraduate years. The boys in the class loved the way he taught and found the subject interesting!"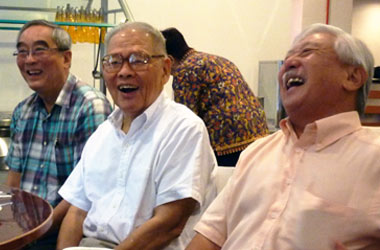 Yap Swee Hoo describes Mr Lau as an epitome of the perfect gentleman, and one with a very caring heart. The following anecdote from Swee Hoo says it all:
"Eloquent and always well-attired, he was courteous and kind to all his students regardless of who they were, as all his students were equal before him. Yet, he was not unaware that some among them would need help more than others given their different family backgrounds. To this end, he would leave no stone unturned to come to their aid.
I recall the time when Mr Lau approached me to ask if I could give up my school scholarship - I was 3rd in class and only 3 school scholarships were available - for the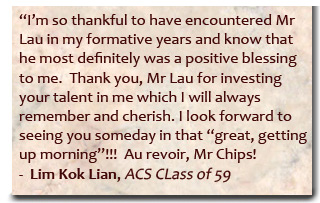 4th boy as I did not need the scholarship money, whereas the 4th boy needed the money to carry on. I was touched by his care and concern for the 4th boy; moreover, I was also surprised that Mr Lau made it his personal interest to know not only his students in classwork, but their family backgrounds as well, to come to their help should the need arise. I readily acceded to his request.
Mr Lau was very kind and easily approachable for his students to feel at ease before him; this, at a time when corporal punishment was the norm in schools. He never pinched, let alone slapped, anyone of us. If at all he was displeased with our misbehaviour, he would still smile

and banter with us even as he got his message across to us in no uncertain terms. It is no wonder that he was much respected and loved by his students".
Agreeing with Swee Hoo, Albert Chan in Canada remarked, "I respected him for his respect for students; so unlike the finger-wagging variety of teachers. I shall miss him sorely".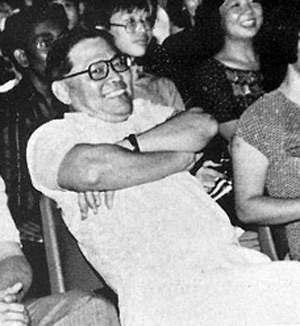 Chia Chee Yoong also is also of the same mind that Mr Lau was not a punishing teacher. "In his days, I am sure he was looked at by his peers as being too much a liberal. That's OK with me - I benefitted. Mr Lau was certainly one of a handful of teachers in my life that came across as a friend, then a teacher!"
Soh Tiang Keng remembers vividly two things at his first encounter with Mr Lau. "First, I was taken aback by his impeccable Oxford accent, for it was the first time I heard a Chinese Singaporean speaking with that accent! Second, he wore thick black-rimmed glasses which struck me as rather odd. But years later, black frame glasses became the vogue with thousands of Singaporeans (myself included)! Indeed, Mr Lau had set the pace for eye fashionwear. Also, over the years, Earnest had gradually shed his Oxford accent, eventually speaking with the true-blue Singapore accent of a local gentleman. He was indeed a great teacher who exuded bubbling optimism and enthusiasm that lit up the whole class."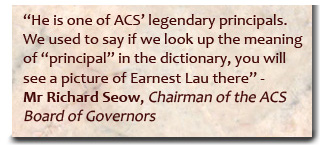 Although Mr Lau appears to be a no-nonsense and somewhat stern teacher, he was equally sporting in more ways than one. He played a part in introducing rugby to the school and Hamid Jinnah (Class of 59/61) remembers vividly that after their first trial game, a group of the players encircled him and pulled his shorts down! According to Hamid, "He was very sporting and took the ragging in good humour. We were certainly blessed with dedicated, caring and sporting teachers like him!"

As Chan Yen Park aptly put it, "Mr Lau was indeed a great teacher, mentor and gentleman ... whence cometh such another? It is indeed fitting that his casket was draped with the resplendent ACS Boys Brigade colours, lending a "state" funeral air to the solemn occasion. We bid him a sad and fond farewell as angels sing him to his rest".