This picture was taken in the second year of our relocation from Coleman Street to Barker Road. It was a combined group picture of Class Standard 4A and 4B taken in 1952 (we moved to Barker Road in 1951) with our Principal Thio Chan Bee, Mr. Wee Teow Kee and Mrs. Ng Eng Peow (nee Lee).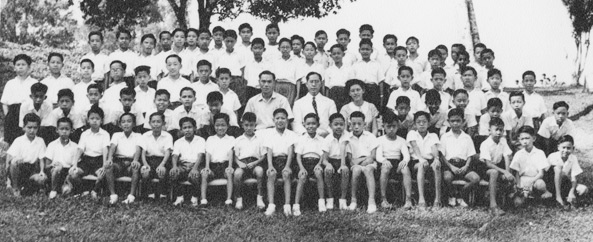 1st Row (left to right): Sim Peck Seng, Wong Kwai Ying, Chia Chee Yoong, Robert Foo Tiang Sai, Lee Seng Gay, Dicky Tham, Chia Hong Chim, Norman Wee, Paul Melvyn Tan Eng Wee, David Tan Sing Hwa, Khoo Choon Tin, ???????, Evan Lau, Foo Tiang See, Yam Kwok Mun, Teddy Yong, Soon Eng Huat and Gerald Yeo.

2nd Row (bending): Wong Mun Peng, ??????, Lim Seng Kok, Yeo Cheng Liat, Tay Tee Seng, Au Pui Chuan, ??????, ??????, Ivor Thevathesan, Tang Wee Houe, ??????, John Lim.

3rd Row: Lim Kok Kian, Sim Sam Sai, Tan Choon Kim, Yap Swee Hoo, Yam Chong Tak, Huang Chen Ya, Wee Moh Hin, Ho Chee Meng, Teacher Wee Teow Kee, Principal Thio Chan Bee, Teacher Mrs Ng Eng Peow, Soh Tiang Keng, Tan Kim Huat ?, ??????, Wee Kheng Hock and Fong Siew Wah.

Back Row: Ong Kian Siang, Tan Eng Guan, Au Bun Aw, Ho Sim Chuing, Roland Lim, Heng Boon Leng,T ay Kheng Soon, Gilbert Chua, ??????, Lee Han Seng, ??????, Loong Sie Hock, ??????, Alan Peck, Chin Kee Thin, Lau Keng Tiong, ??????, Chua Cheow Hwa, Loong Seow Hiang, Sng Yew Thiam, ??????, Chia Buck Kim, Teoh Jin Seng, Tay Tee Seng, Kwok Weng Fai and Tan Boon Chiau.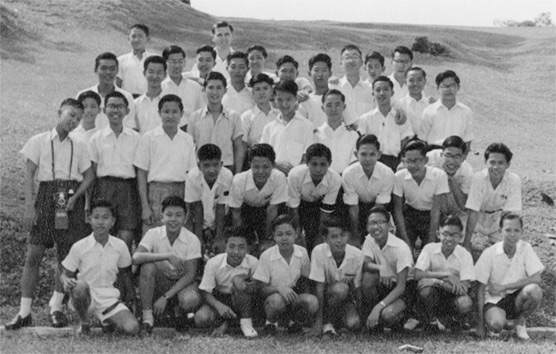 Front Row: Teddy Yong, Winston Choo, Soh Hock Chuan, Khoo Choon Tin, Chu Kim Ching, Paul Melvyn Tan Eng Wee, David Tan and Loh Hon Kwok

Bending: Cheong Kun Lun, Tan Kang Ping, Lai Choon Hui, Lee Ping Wen, Lau Keng Tiong, Chow Kye Wing and Kho Kwang Po

Second Row: John Lim, Pang Loo Seem, David Tan, Tan Tock Eng , Chia Chung Lim, Teo Hong Mong, Winston Tan, Tang Wee Howe, Choo Teck Yong, Winston Koh and Teo Hock Hye

Third Row: Arthur Yap, Wong Kwee Wah, Lim Kwok Kian, Tan Choon Kim, Tham Heng Fai, Ng Keng Yong, Lim Kheng Lin, Tay Eng Soon, Huang Chen Ya, Cheong Karm Lun and Kwok Weng Fai

Last Row: Alan Peck and Andrew Jackson Williamson (Missionary Teacher)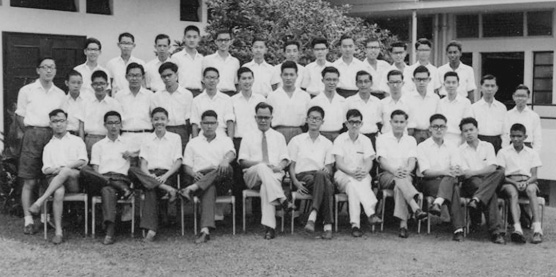 Front Row (seated): Yap Swee Hoo, Choo Teck Yong, Ng Keng Yong, Teoh Jin Seng, Mr Chee Keng Lim (Form Master), Tay Eng Soon, Cheong Karm Lun, Tan Tock Eng, Loong Seow Hiang, Kho Kwang Po, Joseph Pichamuthu

Second Row: Huang Chen Ya, Wong Kwai Yin, Cheong Kun Lum, Tan Chong Beng, Teo Hock Hye, Paul Melvyn Tan Eng Wee, Chia Chung Lim, Tham Heng Fai, Tan Kang Ping, Goh Soon Chye, Wong Kwee Wah, Lee Ping Wen, Tan Choon Kim, Lai Choon Hin, David Tan

Third Row: Pang Loo Seem, Alan Peck, Low Hon Kwok , Winston Tan, Quek Kai Kok, Teddy Yong, Soh Hock Chuan, Teo Hong Mong, Winston Koh, John Lim, Chu Kim Ching, Chia Chee Yoong, Ivor Thevathasan