The inimitable ACS spirit is often said to live on long after leaving school, and this is so true for the Class of 57. In May, after more than half a century since leaving school in 1957, eight classmates accompanied by their wives continued their ACS journey of camaraderie on the Silk Road in China.
It all started at the Class of 57's 50th Anniversary Reunion in February 2007 when the friendships that were forged during the school years were renewed. This resulted in more frequent get-togethers which soon evolved into a monthly lunch meeting on the first Friday of each month.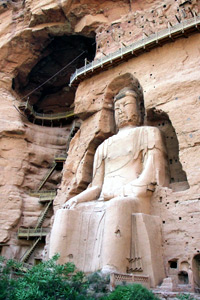 An overseas trip was next on the cards. Views and interest for destinations were sought, and with China a clear choice, Bill Tan in the UK set out to meticulously tailor an itinerary for Chen Ya, in Hong Kong, to kindly implement.
On 17 May, eight classmates accompanied by their wives and two friends (18 in total), embarked on a 15-day adventure along the Silk Road in northwest China, the legendary overland trade route between China and the Mediterranean.
We started from Lanzhou, the only provincial city through which the Yellow River (better-known as China's Mother River) runs. Our journey along this extraordinary ancient Road took us through an ever changing landscape of snow-capped mountain ranges, remote and extreme desert terrains, and towns populated by the descendants of early traders, arriving at our final destination in Urumqi, the capital of the autonomous province of Xinjiang, a distance of some 2,000 kilometres.
As we continued to discover during our journey, the thousands of kilometres are filled with a multitude of fascinating cultural heritage and historical sites:
the Bingling Grottoes, a Buddhist cave complex containing carvings, sculpture and frescoes and an imposing 27 meters Maitreya Buddha

the Jiayuguan Great Wall and Overhanging Great Wall, fortresses built in early centuries to keep out invading armies.

the UNESCO World Heritage Mogao Grottoes, constructed over a period of a thousand years and representing the height of Buddhist art and the world's richest treasure house of Buddhist sutras, murals and sculptures.

the forbidding, yet imposing deserts where early traders had to encounter, with temperatures reaching the 40s Celsius.

riding on camels in the Gobi desert along huge sand dunes, an experience which will long be remembered.

visiting the ruins of ancient cities, the Xinjiang Karez underground irrigation canals and remnants of the Han Great Wall, all of which have enjoyed a history of 2000 years, and marvelling at these construction and engineering feats.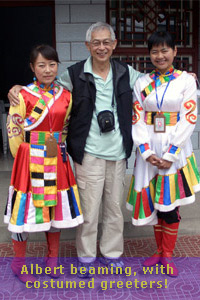 We were struck by the myriad of cultures, and ethnic groups with striking Central Asian features and dress in each of the towns and cities we visited - Uighurs, Mongols, Kazakhs, Uzbeks, Tatars, Tibetans, Manchus, Tajiks, Hui Muslims. On several occasions, we were warmly welcomed with song and dance by different groups in their traditional costumes.
During the journey we reminisced of our schooldays - funny incidents with classmates and experiences with the many teachers who taught us, and many opportunities to recall geography and history lessons by Mr. S. K. Pradhan and Mr P.V. Thomas. The ACS Anthem echoed through the coach, with wives joining in the chorus, as if to encourage the men to "stand together for the cause of ACS forever" followed by songs of the 50's and familiar hymns that we used to sing at Chapel.
Apart from last year's Class reunion, we had not met each other since leaving school in 1957 and tried to catch up with the lost 50 years. Our wives got on marvellously, as though they knew each other for a long time. Everyone in the group bonded well and mindful of one another's well-being.
Sadly, on the 15th day, we left Urumqi airport for our flights home. We thoroughly enjoyed the experience of the group holiday where we shared a special bond of friendship, and appropriately sang our final song, "Blest be the tie that binds our hearts in Christian love; the fellowship of kindred minds is like to that above".

Jimmy Ho Chee Meng
Norman & Ming on White Pagoda Hill with
the Yellow River in the background.

The serene grounds of Big Temple in Wuwei.

Matisi temples & grottoes dug into cliffs.

Colourful Tibetian lunch reception.

At entrance to Jiayuguan Fort.

The magnificent Yulin gorge
... quite a way down!

The Class 57 Caravan!

Overhanging Great Wall.

The group with Flaming Mountain
in the background.

Norman having a great time
with the Uigher ladies!

One for the album with Heavenly Lake in the background.

Click for more photographs

Wuwei
Zhangye
Jiayuguan
Dunhuang
Hami
Turpan
Urumqi
Shopping
Guides & Interesting People

MORE PHOTOGRAPHS

Hock Hye has put together a fine collection of photos taken by the travellers. Click here to view them. You will be prompted to download a plug-in called Photodex Presenter which is essential to view the show.

Lanzhou, Wuwei, Zhangye, Jiayuguan, Dunhuang,
Hami, Turpan, Urumqi (click link for more photos)
From UK:

Jimmy Ho Chee Meng & Sharon,

Quek Swee Kuang & May,

Bill Tan Peck Seng & Jane

From HK:

From Australia:

From Singapore: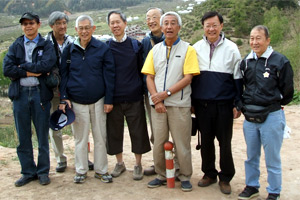 The motley bunch from the Class of 57! (from left: Teo Hock Hye, Bill Tan Peck Seng, Albert Lee Seng Gay, Jimmy Ho Chee Meng, Huang Chen-Ya, Jerry Choo Teck Yong, Quek Swee Kuang & Norman Wee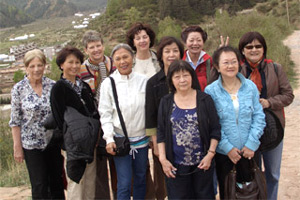 The accompanying ladies (from left: Jane, May, Pauline, Helen, Sharon & Ming; at the rear: Penny, Kay, Cindy & Helen)