---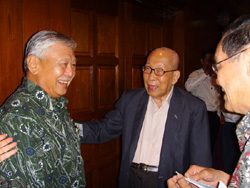 On 12 February 2007, nearly 60 members of our Class 1957 from Singapore and far-flung corners of the earth converged at the The Temasek Club, Portsdown Road, for our 50th Anniversary Reunion Dinner. It was a fitting, pulsating climax after a year of intensive preparations that involved the painstaking task of tracking down long lost classmates through the Internet, e-mails, snail-mails and telephone calls.

Glad to say, the laborious efforts paid off and resulted in a happy and memorable evening of hearty laughter, jokes, and karaoke sessions. Glasses clinked and chopsticks clicked. Along with five former teachers, we feasted in true Chinese New Year dining tradition on Yusheng dishes and other delicacies.

The 1957 cohort has become part of a global village as classmates from North America, Australia , Britain, Hongkong and Sabah jet-hopped to Singapore to touch base with their local counterparts and relive the enjoyable experiences they shared during their childhood and teenage years.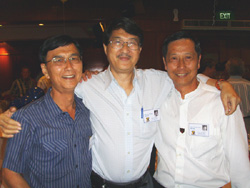 Many have not met for four or five decades. Yet, they chatted and bantered with such ease and familiarity, as if they were separated by a mere few months. Indeed, distance and time have not kept them apart. For they are bonded together by the ACS spirit, where their "hearts, hopes and aims are one" - as the school anthem puts it.

The presence of so many of the cohort from overseas here in Singapore at the same time presented opportunities for a number of smaller gatherings; this included one hosted by Bill Tan at Rasa Sentosa and lunch hosted by Wee Houe at his home. And Norman Wee very generously opened his home and hosted dinner on 14 February. As it was Valentine's Day, wives were also invited to finally meet the 'boys'. The evening was another opportunity for more cajoling, renewing of ties and friendships.

The reunion and the related events will indeed remain etched in the minds of many, whose parting words are "When is the next reunion?"